Set any of the following display settings from the sidebar > Settings > View section:
Units - Select the required units (Meters or Feet).
Center sign - Turn on the Center Sign .
MGRS coordinates - Turn on Show MGRS Coordinates.
Color scheme - Select one of the 3D Map Color Adjustment options: bright, cold, natural, or warm.
Quality - Select one of the Quality options: High, Medium, Low, or Auto. The Auto option automatically provides optimal balance between performance and quality.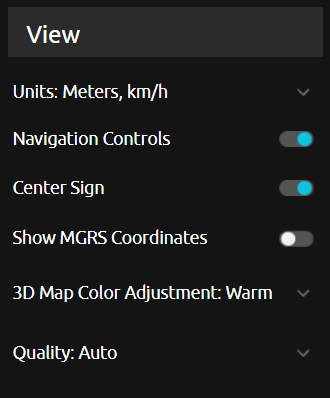 Set the following settings from the sidebar > Analysis tab:
Date and time - Click Time > Click the Calendar button, and select a date. Then on the Time slider, drag the marker to the required time. The date and time affect the displayed light and shadow on the terrain (Only available in the web app).
Shadow mode - In Modes section, turn on Shadow. The shadow is based on a calculation of the position of the sun at the selected hour and date (Only available in the web app)