From SkylineGlobe Server Manager's Reports page, you can generate statistics on data access or upload storage on the server. Data can be filtered based on time range, service, layer, or user/group.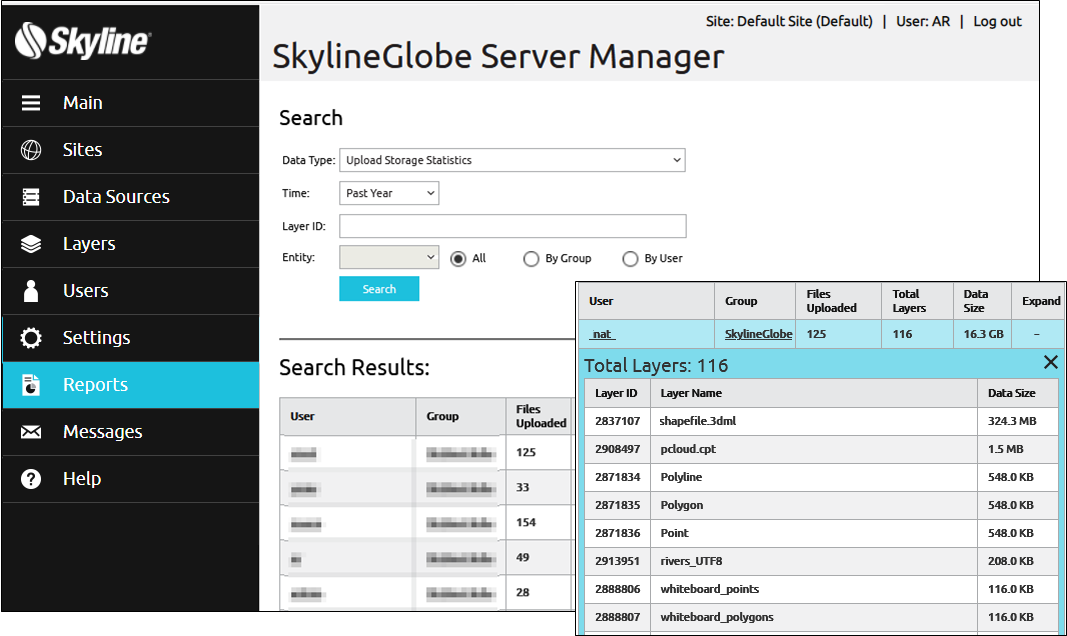 To generate a report on data access or upload storage:
From the SkylineGlobe Server Manager menu, select Reports. The Reports page is displayed.
Select the Data Type you want to generate a report for:

Data Access Statistics
Upload Storage Statistics

You can filter your results by any combination of the following filters:

Time – Select a time range for the data
Service – Select a streaming service: feature, 3D mesh, terrain, point cloud, map, or DirectConnect
Layer ID – Enter a specific layer's ID
Entity – Select whether to filter based on groups, users, or both, and then select the user or group

Click Search. When searching for data access statistics, the search results are organized in tables according to users, services, and servers. The following information is displayed per user, service, and server:

Total Requests - Total number of client requests to the server for data.
Total Active Sessions - Total number of server sessions. A session includes all requests made by an active client until the client stops requesting data.
Total Layers - Total number of layers accessed.
Data Size - Total size of data accessed.

When searching for upload storage statistics, the following information is displayed:

Files Uploaded - Total number of files uploaded to the server.
Total Layers - Total number of layers accessed.
Data Size - Total size of data accessed.

Click + in the Expand column for any user, service or server to view the statistics listed in the table above, per individual layer. When expanding one of the users, statistics are also listed per IP that the specific user logged in from.
In the results organized by user, you can click any individual user or group to perform a new search based on the previous filters and the selected user or group as the Entity filter.