This article describes the workflow for incorporating Bingo aerotriangulation data in the PhotoMesh build.
In PhotoMesh, perform an AT Only build (In the Build Steps dialog, select the AT Only build option).
Note: Photo names can only be up to 16-characters. This must be defined prior to any operations in PhotoMesh.

Set the project's internal coordinate system, in which the aerotriangulation is performed, to a projected coordinate system such as UTM.
In the Build Parameters - AT tab, set the following AT Flag: -bn_bm 1

Run the AT. At the end of the process, a bingo.dat file is generated inside the Build_[#_"Build Name"]\Bundle\AT Tile-0-0-1-1\matches. This file contains all the matches found by PhotoMesh and can be imported into Bingo. This file is usually named "image.dat" in Bingo and should be renamed accordingly.
Note: If some of the photo names in the generated bingo.dat file do not correspond exactly to the names of the photo files, manually edit these names in the bingo.dat file.
Before:

After:
In PhotoMesh, export your aerotriangulation results.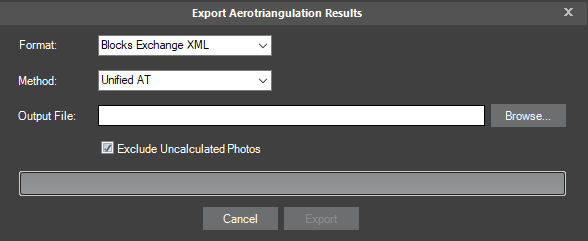 In the Bingo Bundle Adjustment software, import the aerotriangulation results from PhotoMesh, and then perform aerotriangulation.
Once the aerotriangulation results from Bingo are complete, import them into the PhotoMesh project (in a new build), using the Import Tool.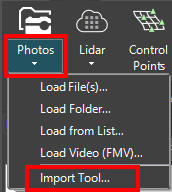 In the Import Tool, select the BINGO Data Type, and import the necessary files and input information to start the project.
In the Build Parameters - AT tab, set the Camera Position Accuracy to Fully trusted input (AT Result).

Build the entire project, and review the results of the 3D textured mesh and additional outputs.