The PhotoMesh Wizard leads you through all the steps involved in the complete process of generating high-resolution 3D or 2D outputs from standard 2D photographs, based on standard, default settings. If you want greater control over the build parameters and outputs, you can close the wizard at any point, and instead use the standard PhotoMesh GUI.
If you want to run PhotoMesh Wizard, contact Skyline support, and they will provide you with the PhotoMesh installation package containing the wizard.
Launching the PhotoMesh Wizard
Click the PhotoMesh Wizard icon on your desktop. The PhotoMesh Wizard opens.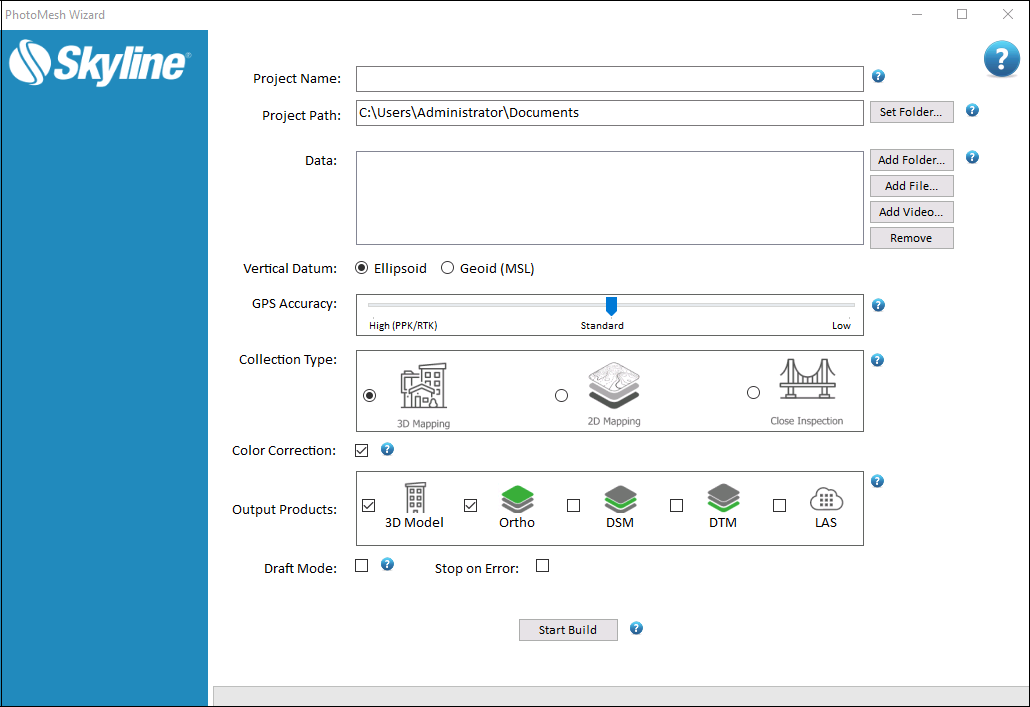 Setting up the Project and Loading the Project Photos
In the Project Name field, type a project name. This name is assigned to the project folder created below.
In the Project Path field, click Set Folder and browse to the required path for the project folder. All project outputs will be saved to this folder.
In the Data section, click any of the options below to add project data. You can also browse to the required file or folder in a separate File Explorer window, and drag and drop it into this section.


Add Folder - Browse to the required folder of photo files to load.
Add File - Browse to the required folder and select the individual photo files to load, or an Excel/XML file with a list of photos, their file paths, and all photo and photo collection information.
Add Video - Browse to a video in MPEG, MP4, MOV, or WMV format, from which you will extract individual frames and save as image files.
Note: If you want to remove a file after it was added, select it in the list, and click Remove.
Defining Project Settings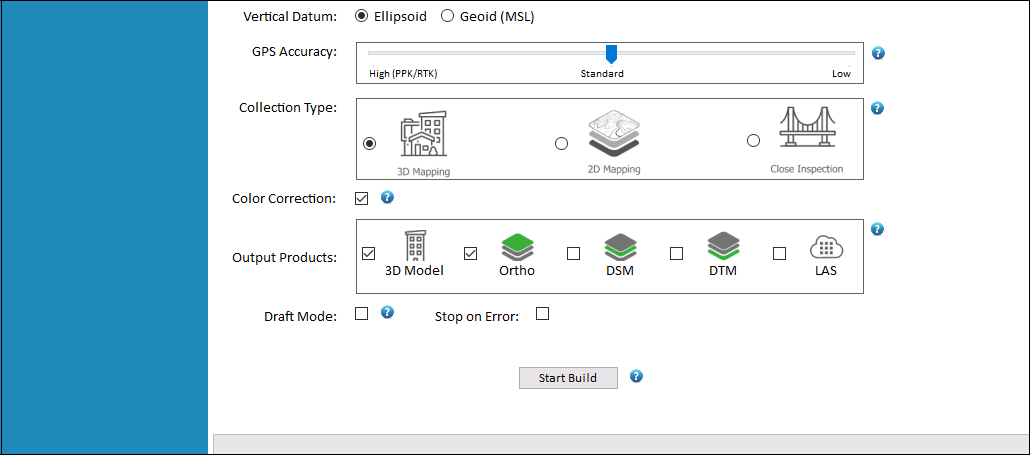 Select the input's Vertical Datum

,

either Ellipsoid or Geoid (MSL). For more information on vertical datum, see https://en.wikipedia.org/wiki/Geoid). If you discover that the wrong vertical datum was selected, only after the output was generated, you can easily correct the model's position using TerraExplorer's Scale and Rotate tool. More about: Scale and Rotate tool >
Note: A coordinate system can optionally include a vertical datum that defines the origin for height values. Different drone platforms use different vertical datum:


Sensefly, Wingtra, Yuneec use Ellipsoid
DJI, Skydio use Geoid

Select the GPS Accuracy. This determines the accuracy of the camera positioning data.

High: 0.5 meter accuracy or better, utilizing PPK or RTK accuracy enhancement.
Standard: 1-5 meter accuracy.
Low: Low accuracy, GPS denied environment or in obstructed settings, 5 meters or lower.

Select the Collection Type. This determines what project presets are set to achieve optimum output for the project's data.

3D Mapping: For projects containing oblique and nadir photos designed to build 3D models and 2D true orthophotos. Both nadir and oblique photos are required for best results.
2D Mapping: For projects containing only nadir photos with primarily orthophoto outputs.
Close Inspection: For projects with a single object that was captured using a close-range orbital pattern.

Select Color Correction to adjust brightness and contrast using the histogram generated for each photo. This setting is recommended for datasets that were captured in cloudy, hazy, and low-light conditions.
In the Output Products section, select the required output formats:

3D Model: Skyline's proprietary format for high-resolution, textured, 3D mesh models that have been compressed and stream-optimized to accelerate loading speed and efficiently handle memory.
Orthophoto: 2D aerial representation of the Earth's surface with uniform scale.
DSM: Digital Surface Model, gridded raster with elevation values representing all elevation data, including building and reconstructed objects in the mesh.
DTM: Digital Terrain Model, gridded raster with elevation values representing the bare ground surface without any objects such as plants and buildings.
LAS: Colorized Photogrammetric Point Cloud, representing all known data points extracted during the 3D correlation process by PhotoMesh.

Select Draft Mode for faster processing and low quality outputs.
On powerful machines, the Max Processing property is displayed. Select this property to allocate all available computer resources to processing the project data and creating the required outputs. This option is likely to affect the running of of other programs on the computer, so it is only recommended on a PhotoMesh-dedicated machine.
Select Stop on Error if you want the project to stop running if any error (even minor) occurs.
Starting the Build
Once all the data is imported and the required settings for the project are selected, click Start Build

. This initiates the entire PhotoMesh build process. You can cancel the build at any point. A progress bar, status, and time provides feedback on the PhotoMesh project. The wizard can also be closed without interrupting the build process.

Once the project finishes processing, the wizard closes, and your output opens in TerraExplorer.