In June 2011, following a competitive bidding process, Réseau Ferré de France (RFF) awarded the world's largest ever rail concession contract to LISEA (Ligne Sea Tours – Bordeaux), a consortium company led by VINCI Concessions. They were tasked with managing the financing, design, construction, operation and maintenance of a 340 km high-speed line connecting the French cities, Tours and Bordeaux. This high-speed rail would bypass the cities of Libourne, Poitiers and Angoulême, slashing travel time between Paris and Bordeaux from 3 hours 15 minutes to 2 hours and 5 minutes.
The project involved construction of over 400 major civil engineering structures, including 302 km of high-speed rail line, 38 km of connecting rail line, 19 viaducts, 5 underpasses (one almost two kilometers long), 285 bridges, 15 grade-separated junctions and seven cut-and-cover tunnels, spanning three regions.

After an in-depth search for a 3D comprehensive visualization solution and a call of tender, COSEA (the design-build construction joint venture, which was awarded the project's design and civil engineering works) selected Skyline's SkylineGlobe software for web-enabled 3D information mapping and analysis. Using Skyline's software, the global project and the different construction options were displayed in 3D, providing all interested parties with rapid access to extensive data from multiple agencies and sources in its geographic setting. Employing user-friendly interfaces, operators performed on-the-fly dynamic analysis that did not require offline preprocessing by specialized analysts using complex desktop applications.
The $7.7 billion project was completed ahead of schedule, on budget and with public approval in early 2017.
In the words of Philippe Bour, the project integrator: "Skyline's software played a critical role in the efficient management of this rather massive project, but even more importantly, it has enabled us to share plans with the public in such a way that they could accurately envision what would be built six years later. We were able to allay many concerns in this way, as well as receive valuable feedback that led to adjustments of the final design. With the construction phase complete, the comprehensive 3D visualization that we created will continue to be invaluable for operational management, maintenance, and customer service."
More about: Case Study: Managing the World's Biggest Rail Concession Contract >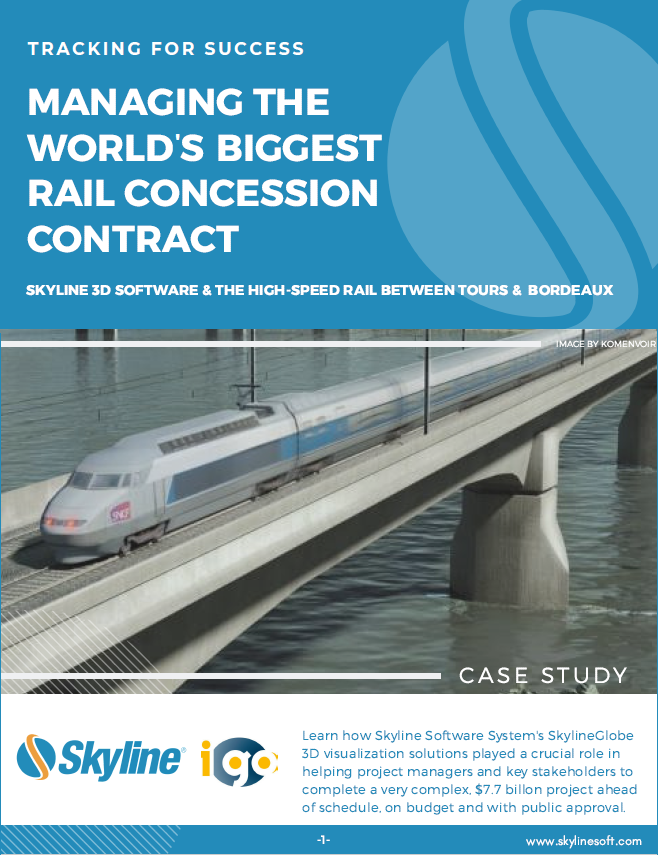 More Case Studies: