Applies To:
PhotoMesh 7.8
Problem:
When opening PhotoMesh, you get an error message "Could not load file or assembly 'System.Reactive, Version=4.0.0.0, Culture=neutral, PublicKeyToken=94bc3704cddfc263' or one of its dependencies. The system cannot find the file specified."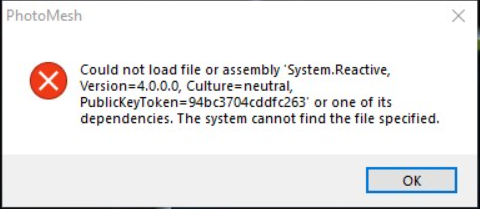 Explanation:
If an older version of PhotoMesh was not properly uninstalled from your computer before installing PhotoMesh 7.8 (e.g., application files were manually deleted or the uninstall process was interrupted), leftovers in the installation files may cause this error.
Solution:
Use Window Settings > Apps & Features, to uninstall all PhotoMesh versions from your computer.
Browse to your installation directory (e.g., C:\Program Files\Skyline\PhotoMesh) and check that no files are left in the directory.
Install PhotoMesh 7.8.
Open any PhotoMesh 7.8 project. If the error is not displayed, this indicates that the issue was successfully resolved.