The first step in the PhotoMesh process entails photographing all visible surfaces of the intended object or scene from multiple overlapping viewpoints. PhotoMesh supports standard image formats and large frame sensors.
The accuracy of the resulting 3D mesh model is affected by several factors including: input photo resolution and quality, lens distortion, overlapping ratio, directionality, and lighting. While PhotoMesh optimizes the accuracy of the 3D mesh model by selecting the best photos for an area, each factor can affect the overall output or cause varying levels of accuracy and quality in different areas of a project.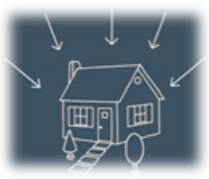 In most projects with good quality input, the resolution of the 3D model has been found to be approximately 1-2 times the ground sample distance of the source imagery.
Learn more about the recommendations for:
Video camera hardware and settings
Flight planning and execution